Tropical Storm Leslie passed Bermuda around noon (local time) on Sunday, 9/9/12, bringing winds no stronger than many winter storms experienced on the island. BIOS and the R/V Atlantic Explorer all fared well!
Channel 82 Bermuda streamed Leslie's passing live from Scaur Hill, Sandys.
Sunday Sept 9, 2012
Winds have been sustained tropical storm force, gusting hurricane force across elevated and exposed areas of Bermuda. Showers, with a chance of thunder remains as Leslie moves northward. Winds will slowly begin to decrease early this evening as Leslie accelerates north-northeast and strengthens. Hazardous surf and rip currents continue into Monday.
As of the 6 p.m. advisory, TS Leslie is located 151 nautical miles to Bermuda's ENE and a Tropical storm force winds will continue to affect the eastern marine area until 9pm. A Tropical Storm Warning remains in effect but is likely to be discontinued for the 9pm Intermediate National Hurricane Center advisory.
Minister Perinchief : " …it will be business as usual tomorrow!"
Tropical Update Bulletin @ weather.bm
KEY: Blue = 34-50 kts, Yellow = 50-64 kts, and Red = 64 kts and greater
Diagonal shading indicates fringe winds (34kts or greater surrounding the storm's core)
28Storms.com Sept 5,Wed. Night Leslie & Isaac Discussion
Sept 8, 2012 6PM ADT
The latest forecast from the Bermuda Weather Service (BWS) shows that Leslie remains a Tropical Storm. However, the latest information from the Bermuda Weather Service (BWS), in consultation with the National Hurricane Centre in Miami, is that Leslie is expected to intensify into a Category 1 Hurricane as it passes Bermuda within the next 24 hours.
Read entire Emergency Measures Organisation Press Release for Tropical Storm Leslie
Sept 7 – Leslie is weakening, after days of stalling and slow movement in the Atlantic ocean. Nevertheless, the storm is expected to re-attain hurricane status as it passes Bermuda, and the island is currently under a Tropical Storm Watch.
=====
Leslie intensified into a hurricane Sept 5 while edging its way northward in the open Atlantic, on a direct path for Bermuda. Leslie is expected to become a Category 2 storm.
Tropical storm force winds are expected Sunday morning, with storm to possibly hurricane force gusts Sunday morning through afternoon. Hazardous surf and rip currents continue through Sunday
=====
Sept 5
Leslie intensified into a hurricane today whilst edging its way northward in the open Atlantic, aiming for Bermuda at present. Leslie is expected to become a Category 2 storm, with a small chance of the storm becoming the first major hurricane of the Atlantic season. All interests in Bermuda should be monitoring this storm, as it is expected to pass close to the island in the next three days.With winds of 65 mph, the circulation of Leslie looks like it is experiencing some shear with most of the activity on the right side. That is the side forecast to hit Bermuday by the end of the week.
Sept 4
Leslie is starting its major slowdown over the Atlantic and the convection of Leslie appears to be heading towards Bermuda. Why is this circulation moving so slowly? Will the atmosphere keep Leslie at bay?
Tropical Storm Leslie has been churning the open Atlantic waters on its journey northeastward. Leslie is expected to continue to stay away from North America, though the Bermuda Weather Service refers Leslie as a potential threat to the island .
Leslie has attained 70mph winds and a pressure of 994mb earlier in its lifetime.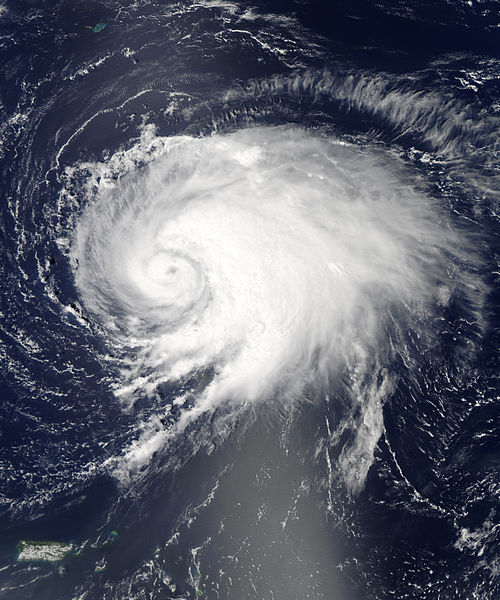 Storm & Weather Links