Sea Venture was a seventeenth-century English sailing ship, part of the Third Supply mission to the Jamestown Colony, that was wrecked in Bermuda in 1609.
She was the 300 ton purpose-built flagship of the London Company and a highly unusual vessel for her day, given that she was the first single timbered, merchantman built in England, and also the first dedicated emigration ship. Sea Venture's wreck is widely thought to have been the inspiration for Shakespeare's play The Tempest …
Read more @ wikipedia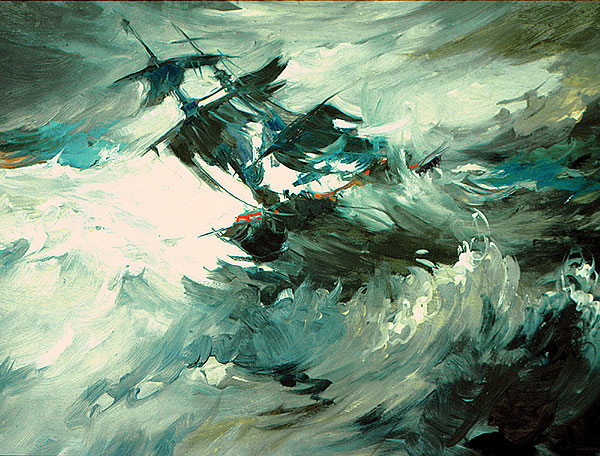 ==========================================
27 July 1609 – Wreck of the Sea Venture
Stephen HOPKINS was the only Mayflower passenger who had previously been to the New World. His adventures included surviving a the Sea Venture's 1609 shipwreck [ including being pardoned for mutiny!]  in Bermuda and working from 1610–14 in Jamestown as well as knowing the legendary Pocahontas, who married John Rolfe, a fellow Bermuda castaway. Some Shakespearean scholars believe he was the model for the rogue Stephano in the Tempest.
On Jun  2 1609, the Sea Venture, under the command of Sir George Somers, admiral of the fleet, with Christopher Newport as captain and Sir Thomas Gates, Governor of the colony, departed from Plymouth, England followed by the rest of the Virginia Company's fleet, the Falcon,Diamond, Swallow, Unity, Blessing, Lion, and two smaller ships.
Hodges writes,
"For seven weeks the ships stayed within sight of each other, often within earshot, and captains called to one another by way of trumpets. On the Sea Venture all was peaceful. Morning and evening, Chaplain Buck and Clerk Hopkins gathered the passengers and crew on deck for prayers and the singing of a psalm."
The ships were only eight days from the coast of Virginia, when they were suddenly caught in a hurricane, and the Sea Venture became separated from the rest of the fleet …
Read more @ minerdescent.com/2010/05/17/passages